TR's Interview...

When did you first start writing?

At around the age of eight or nine, I talked my best friend into helping me write a community newsletter. We sat up shop under the stairs at my mother's house. I believe we wrote about three papers giving them to neighbors and friends while out of school for the summer.
When did you realize you wanted to write professionally?
Like many, I fantasized about being a world-class best-selling author. However, when those feelings surfaced, reality stepped in and asked, "what will you write about, and who would care?" When my daughter received a dramatic breast cancer diagnosis, eight women stepped up and said "we'll be there until she is completely well again".
The women, I called my daughter Angels became an extended family with their gifts of time, money, heart-felt prayers, and so much more. They were there for whatever was needed. As my daughter started getting better, these Angels continued their earthly watch. After much thought and prayer, I decided to express my thanks to the Angels in the form of a thank-you letter.
This was the start - the thank-you letter to the Angels evolved into my first published book. The tiny book, "Thoughts Influence Power Snippets", had a huge message about the power of our thoughts to activate hope, healing, and love. My daughter's thoughts became her mantra, "Dear God, one day at a time to survive; one day at a time to thrive".
Writing for a living, for the money is not what I am about. I sincerely believe it is my purpose to share my heart with others. It gives me great satisfaction when hearts are warmed and loved by my written words.
Today, ten years later, my daughter is good. The Angels continue their love and care. And, I cannot envision not writing and creating to motivate hearts - my own and the hearts of others.
Now, this is what is so special about Angels. I viewed the women as my daughter's Angels, but they were also my Angels. They helped me discover my life calling, to share my heart with other hearts.
So, always be on the lookout for your Angel. Now, they may not look as you may expect, so be good, be kind and thoughtful and loving to everyone, as you may be in front of your Angel right now…
Angels Today On Their Way!
A poraso dedicated to my daughter Angels...

What is your writing process?
I don't call it a process, but I write something when I'm inspired. This inspiration could be from a dream, a thought or so many of life's happenings. Living our lives gives us many lessons and blessings worthy to pen to paper. I'll jot down the thought and add whatever comes to mind. When that vein is exhausted, I'll put the written work away. Later, I'll come back to it to add, critique or continue to save for further inspirational moments. My writing happens when it feels right in my spirit.
What are your five favorite books, and why?
My favorite books are books that teach and grow me. I especially like books about powerful people who empower others, especially women who move pass the glass ceiling or rather act and grow themselves as if there is no glass ceiling. I also like books where the underdog up against many obstacles comes out on top. I like this type of read because it lets me know success is just a matter of timing, energy and stick-to-itness, and one hundred percent belief in your passion.
Describe your desk
Some moments organized, others - very cluttered, but always ripe for writing.
What is the greatest joy of writing for you?
When someone reads and get-it from my writing, that gives me great satisfaction. My mother coined the expression "read-on-it", as her way of reading what I write. She says, "when I take my time and read-on-it, I understand and love it". Now, of course, she's my mom and a bit partial, but I've incorporated her phrase "read-on-it". Because I write not just to impress, but to inspire, excite, educate, entertain and empower hearts.
What do your fans mean to you?
The feedback from people is priceless. Every day is a day to grow and better my best. When someone likes what I've written - that motivates me to keep going. Likewise, when someone suggests improvement, I value that as a way to better my best and keep doing what I love.
What one piece of advice would you give aspiring authors?
If you have something to share that may inspire or heal someone, say it. Start writing and keep your notes in a folder and add to it whenever thoughts and ideas come to you. Do not worry about the naysayers, especially yourself, just start putting your words on paper. It does not have to be grammar perfect or make sense - just write what's in your heart. Keep at it and sure enough your written words will grow into some very special.
What inspires you to get out of bed each day?
Each new day is a new day to better the day before. I am and continue to be a work in progress, so every new day affords me another opportunity to right a wrong, to make a difference in someone's life, to better my best in loving, learning and laughing.
When you're not writing, how do you spend your time?
I believe I am always writing, maybe not pen to paper, but ideas and thoughts flowing in my mind. So, when I am not physically writing, I am in the moment observing life for things to write about. Living our lives creates experiences, opportunities and possibilities that have the wherewithal to uplift, inspire and create. Things we create manifest love, a love for our creator, love of ourselves and love to others.
What are you working on now?
Just For This Day Journal! Just For This Day (JFTD) Journal is a mission in love using God's Words to:
* Embrace yesterday's lessons.
* Anticipate and promote tomorrow's goals.
* Purposefully keep synergy focused on today's actions.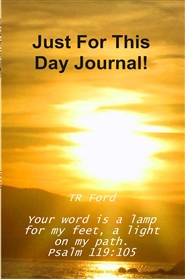 Good Morning God!
You've ushered in another day - one, untouched and freshly new.
So, here I am to ask you God, if you'll renew me too.
Please forgive my many faults of yesterday, and let me try again today -
to walk your way - because I am aware I can't make it on my own.
So, take my hand and,
please hold it tight - this way I won't look back,
and I know I do not walk alone.

Just For This Day Journal, inspired and co-authored by Minister Freddie Ford of Katallage Ministry.